P.E.I. loses lighthouse to storm
CBC - December 22, 2010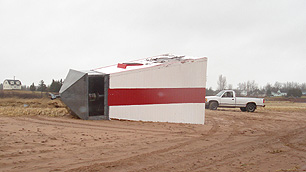 The Beach Point Lighthouse, at the southeastern corner of P.E.I., was knocked off its foundation and driven inland by a storm surge overnight Tuesday.
The damage to the lighthouse was one of the worst problems reported due to storm surges around the east and north shores of the province. Burleigh Brothers, a shellfish processing plant in East Bideford on Malpeque, reported it had more than a metre of water in the plant overnight. The plant has been in operation since 1934 and has never seen anything like it.
Confederation Bridge, P.E.I.'s connection to the mainland, reopened to high-sided vehicles at about 8 a.m. AT Wednesday after a 28-hour closure.
The closure, caused by high winds, kept transport trucks carrying goods to stores on the Island stuck in New Brunswick for more than a day. Shops were reporting shortages of baking supplies in particular. Confederation Bridge officials are warning that it could close to high-sided vehicles again at any time. Wind conditions are not expected to ease until Christmas morning, as a wind and rain storm continued in the Maritimes.
On the Island itself, six bridges were shut down by flooding overnight, but Department of Transportation crews have been getting them reopened. Two remained closed early Wednesday afternoon: Oyster Bed Bridge and Corran Ban Bridge.
Storm surges flooded coastal areas around the province, and more are expected Wednesday.
"We are expecting the water levels today for the next high tide to be actually lower than they were for last night's one, and we're not expecting to see the same level of flooding but we are still anticipating some more flooding," Linda Libby, the Environment Canada warning preparedness meteorologist for P.E.I. told CBC News Wednesday morning.
"The other issue is because we've been in this storm condition for a good 24 hours or more, plus two high tides, there may be some areas that have been weakened by the last two high tides that may be more vulnerable for the next couple of ones."
High winds are causing problems for maritime Electric. Currently about 150 customers are without power on the Island, mostly individual outages scattered around the province. About 1,300 customers around Mt. Edward Road in Charlottetown lost power for a short time in the morning.
Environment Canada forecasts winds could ease slightly later Wednesday, before picking up again on Thursday.
If you are not a subscriber, please subscribe today. Click here.