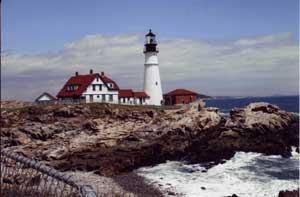 Make National Lighthouse Day a Reality
August 7, 1989 was a big day for lighthouses. It was the 200th anniversary of the federalization of America's lighthouses. Celebrations were held at lighthouses all across the nation, with one of the largest celebrations being held at Maine's Portland Head Lighthouse.
In anticipation of honoring the First Public Works Act of the First Congress of the United States, which on August 7, 1789 put all lighthouses under federal control, the 100th Congress of the United States passed Public Law 100-622 which declared that National Lighthouse Day be held and honored on August 7, 1989.
Since then, lighthouses and lighthouse groups have continued to use August 7 as National Lighthouse Day. However, because Public Law 100-622 only declared the date of August 7, 1989 as National Lighthouse Day, the date carried forward to future years is not official and is not a legally recognized date and does not even appear on most calendars.
Because of this I have contacted United States Senator Olympia Snowe, of Maine, and asked her to update Public Law 100-622 or create a new public law that declares August 7, 2009 and every year forward as National Lighthouse Day. In doing so I asked her to seek co sponsorship from other Senators, which should be a fairly easy task to do, especially since so many states have lighthouses.
Now, I am asking communities that have lighthouses, lighthouse preservation organizations and readers of Lighthouse Digest to step forward and contact their United States Senators, from their individual states, to throw their support behind the official creation of August 7 as National Lighthouse Day for all future years.
Over the years, the loyal subscribers of Lighthouse Digest, have always stepped forward to support many different lighthouse initiatives and this is again another opportunity for you to help make a difference.
Let's make it happen, so that August 7 will always officially be National Lighthouse Day! Please send your letters and make your phone calls today.

Tim Harrison
Editor & Publisher
Lighthouse Digest Magazine

If you are not a subscriber, please subscribe today. Click here.