Vanished Lighthouses Recalled in Ghost Lights of Lake Erie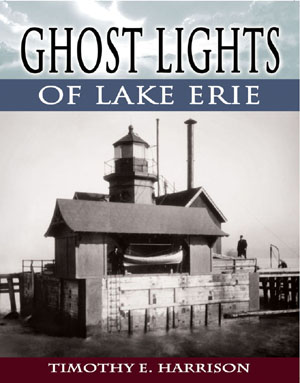 Although most people are aware of the popular and well known lighthouses that dot the shores of Lake Erie, few people are aware of the large number of historic lighthouses that are no longer standing, having been lost to the dusty pages of time.
However, now thanks to the new book, Ghost Lights of Lake Erie, these lost and forgotten lighthouses, each with their own story to tell, have been brought back to life through historic and rare images, many that have never been published before.
Authored by Timothy Harrison, editor of Lighthouse Digest, a national lighthouse news and history magazine, the book follows last year's release of Harrison's popular Ghost Lights of Michigan book. Ghost Lights of Lake Erie is Harrison's tenth lighthouse book and, he says, is an effort to keep alive the history of these lost and forgotten beacons, especially for future generations.
The 171 page book, with over 200 photographs, is like a time machine, taking the reader back through history to a nearly forgotten era of Lake Erie's past in Ohio, Pennsylvania, New York, southeastern Michigan, and the Detroit River.
"Some of the Ghost Lights were magnificent structures, engineering feats of their time," says Harrison. "Others were architecturally beautiful, like one of the lighthouse in Cleveland. Some were large lights, as in Conneaut, Ohio, and others were small, but very unique. Some were primitive, especially by today's standards. But each and every one was vital to the development of the communities of Lake Erie. Sadly, they are all gone, lost in time, and now only remain as ghostly old images in faded photographs."
Ghost Lights of Lake Erie is available from Lighthouse Digest at P.O. Box 250, East Machias, ME 04630, Phone # 207-259-2121 or on-line.
To order, click here.
If you are not a subscriber, please subscribe today. Click here.