Kauhola Point Lighthouse, Down & Out!!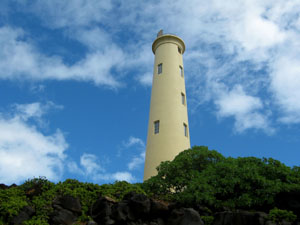 It's another sad day in American lighthouse history. We were just two days late!! During a very recent trip to Hawaii we had hopes of seeing Kauhola Point Lighthouse, but we were too late. All that remained was a pile of rubble and the dump trucks hauling it away.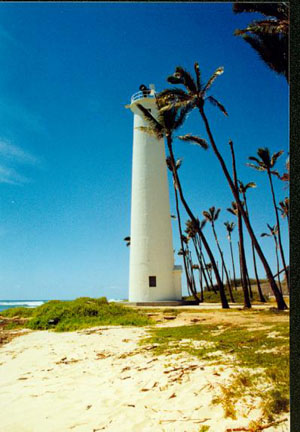 My wife and I are longtime Lighthouse Digest subscribers and members of ALF. A recent article in the December issue of Lighthouse Digest shows Kauhola Point Lighthouse, before the wrecking ball. Attached are pictures I've taken of the lighthouse being hauled away during a visit to Kauhola Point. In talking with one of the subcontractors hired to remove the rubble, I learned that the state was worried about the liability issues - as well as the shoreline erosion issues as stated in the Harrison article. This is a very beautiful point on the island of Hawaii, and a perfect place for a lighthouse. As I've written in a previously published article (The Lighthouses of Oahu, July 2004), Hawaii is one of our favorite places to travel to, with lighthouses in some of the most amazing settings. Hurry up though, they might be soon gone!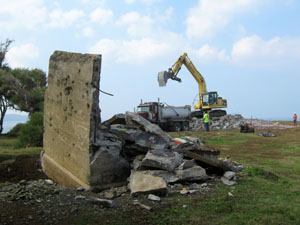 Mr. Harrison's great article also mentioned the lighthouses that the Hawaiian State Preservation Office determined to save similar examples of the recently torn down Kauhola Lighthouse. We have also seen these lighthouses, Ninini Point Lighthouse in Nawiliwili Harbor on the island of Kauai and Barbers Point Lighthouse on the island of Oahu. Attached are pictures of both of these lighthouses. We can only hope and pray that the state will in fact save these two lighthouses.
Randy C. Hemstad, Minnesota
If you are not a subscriber, please subscribe today. Click here.