New Book Recounts Washington County's Lighthouse History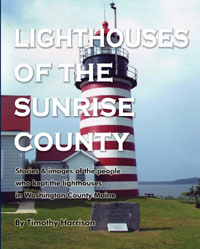 "Never before in the history of lighthouses has such a book ever been published with so many historic images for such as small number of American lighthouses," says Tim Harrison, author of the new book, Lighthouses of the Sunrise County, which recounts in stories and images of the people who kept the lighthouses in Washington County, Maine.
Harrison said Maine's Washington County has an amazingly rich lighthouse and maritime history that many people know very little about, "and I felt it was time to document and share this part of Maine's history with the world."
As editor and publisher of Lighthouse Digest, a lighthouse history and news magazine that has worldwide circulation, Harrison has been accumulating historic images and stories for nearly 20 years and this is his seventh lighthouse book. He said he actually started this book about five years ago. However, it was moving to Downeast Maine that inspired him to complete the book, especially after he was able to visit with many families of the U.S. Lighthouse Service and Coast Guard keepers who lived at the lighthouses or had ancestors that did and gather additional stories and images, which enabled him to complete the book. "Without the help of so many people, who shared memories and photographs with me, this book would not have been possible," said Harrison.
With over 350 historic and rare images, most never before published or shared outside the families, the book chronicles in stories and photographs, nearly two centuries of Maine's Washington County lighthouses, bringing them back to life in rediscovered history. Ron Pesha, President of the Lubec Historical Society, says, "The book details new facts with fascinating photos, which make for a fun and enlightening read."
Jim Claflin of Claflin & Son Nautical Antiques, which is one of the largest dealers in lighthouse and maritime antiques in the nation said, "So many excellent photos and interesting information are included in this book that I hope Harrison continues with other lighthouse books, right down the coast, county by county."
The lighthouses chronicled in the book are: Avery Rock Lighthouse that once stood in Machias Bay; Libby Island Lighthouse off Machiasport; Little River Lighthouse in Cutler; Lubec Channel Lighthouse in Lubec; Moosepeak Lighthouse, near Jonesport; Narraguagus Lighthouse, near Milbridge; Nash Island Lighthouse off the coast of South Addison; Petit Manan Lighthouse near Milbridge; the no longer standing St. Croix River Lighthouse, near Calais; West Quoddy Head Lighthouse in Lubec and Whitlock's Mill Lighthouse in Calais.
The book also includes a chapter about Frederic Morong, Jr., the Poet Lauriet of the Lighthouse Service who wrote the famous poem, "It's Brasswork," at the kitchen table at Little River Lighthouse. Another informative chapter is about Lubec native Connie Small, the lighthouse keeper's wife, who became known as Maine's "First Lady of Light."
Bringing the history full circle the book also includes a chapter about Hopely Yeaton, who was once buried at West Quoddy Head Lighthouse. Harrison and many historians consider him as the unofficial "Father of the United States Coast Guard."
"The primary purpose of a book like this," said Harrison, "is to help preserve this important history for future generations so they can appreciate where we came from as a people and how we arrived at where we are today here in Washington County." Harrison is also quick to point out that he hopes people from all generations will purchase the book, which in turn will make it possible for him to continue documenting additional lighthouse history that will be saved for future generations in additional lighthouse history books.
Harrison hopes that more people will come forward to share additional memories and photos with him that could be used in a second edition of the book. He is also working on a new book about the lighthouses of the Bar Harbor and Acadia region, which will be published next year. However, he is still looking for additional photographs and stories from the families that lived at those lighthouses, "something that is not always easy to find," he says, "since many of the descendants and people who lived at the lighthouses have scattered all over the nation and are not aware we are trying to save and document their family lighthouse heritage."
Lighthouses of the Sunrise County can be ordered for $18.95 plus 5% Maine sales tax from Lighthouse Digest, P.O. Box 250, East Machias, ME 04630 or by calling 207-259-2121. The book can also be ordered on-line at www.LighthouseDigest.net. The publisher is offering free shipping on initial orders until September 10.
To order, click here.
If you are not a subscriber, please subscribe today. Click here.